« Your products deserve all our care »
KNOW-HOW
We ensure an efficient and flexible interface between the factories or distributors of your products and the user industries.
QUALITY
The proposal at the best cost of services integrating adapted solutions of bagging, de bagging, Crushing and sifting.
REACTIVITY
Strict compliance with contractual, legal and regulatory requirements.
SERVICE
Listening carefully to the needs and expectations of each customer.
We provide an efficient and flexible interface between the factories or distributors of your products and the user industries. Our customized packing service integrates perfectly into your own production line or your logistics flows and meets your expectations and those of your customers while optimizing your costs.
Our team builds each step of our services in close collaboration with you to meet your specific needs. We have the capacity to pack your products from 10kg to 1200kg in a wide range of bags, of perfectly adapted format and composition. We pack powders and granules in your packaging or in bags, neutral or branded, supplied according to your specifications.
Whatever your needs, we have a solution for you.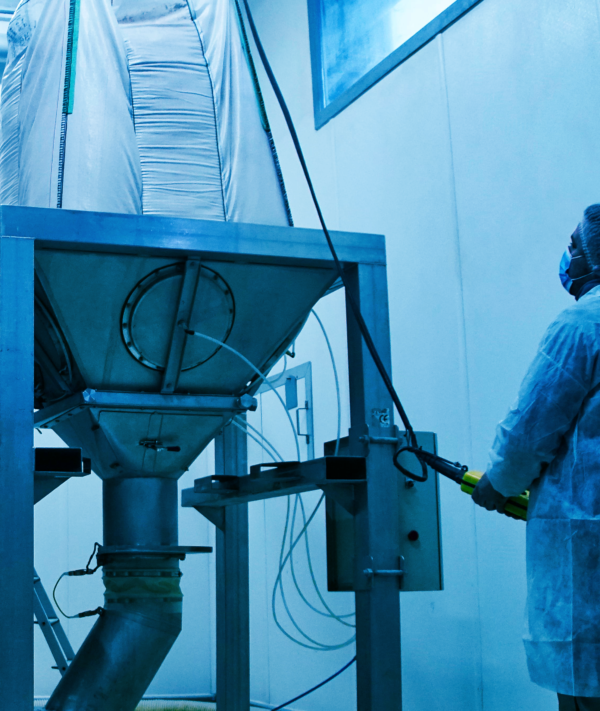 We know that the right packaging is essential to meet the demands of your industrial customers. To ensure that your ingredient can always be delivered in the most suitable container for its use, we offer a repacking service. This service allows you to change the packaging format, to optimize its presentation or to bring the packaging into conformity. Our repacking operations are always carried out under the strictly defined hygiene and safety conditions for your products in order to preserve all their qualities.
We can, for example, transfer bags or drums into 1000 kg big bags or 25t powder tanks, but also repackage 25kg bags into 15kg.
Crushing, detection and recovery of foreign bodies
More than a service provider, we are your partner in guaranteeing and preserving the quality and safety of your ingredients. Our different packaging lines are equipped with adaptable equipment to best meet the specific expectations expressed by our customers and required by their products.
We implement different equipment to bring your products into conformity or to guarantee their quality:
Emotor,
Metal particle dectectors,
Magnetic bars
Sieves,
Warehousing and logistic services
Perfectly trained, our employees can handle your products with professionalism and traceability, from reception in bulk or on pallets to shipment to your customers
Warehousing: Simple, efficient, safe and adapted to your needs, NUTTENS SERVICES offers an ideal geographical location for the storage of your goods. With more than 10 000 m² located at 1 hour from Paris and Lille, close to the A1, A2 and A29 motorway crossroads, close to large consumer basins, important industrial centers and the largest European seaports: Le Havre, Dunkirk, Antwerp, Rotterdam.